Guess how many Parisians, Parisians mind you, have never been up the Eiffel Tower. Go on, guess.
No, you're wrong, so wrong, it's two million, one hundred and twenty seven thousand, three hundred and fifteen. I know. I've counted them. Give or take the odd thousand for statistical error. But a lot.
Because, you see, why on earth should they go up it this week when they can go up it any time they want. Like, next week for example. And the same phenomenon happens through out the year, even for non-Parisians.
Have any of you noticed that big bright shiny thing at the end of the Champs Elysées that pops up most years around this time? It's called la Grande Roue. The Big Wheel. Right, that big bright shiny thing. And have you been up it? No, you have not. And why not? Because it's there.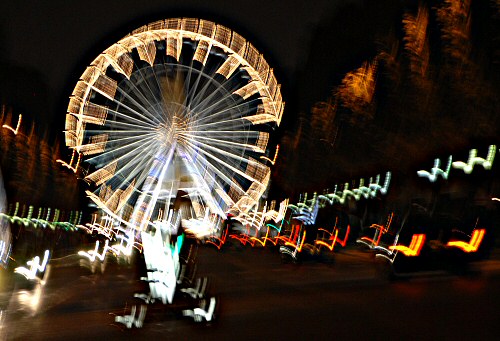 Yes, of course it's meant to look like that. It's called 'artistic' blur.
Pass the mulled wine, mother...
 Well I'm sorry, but I'm just not going to accept that excuse this time. It's weak and wimpish and just doesn't wash. Get yourself up there forthwith, that's what I say. The view from the top is truly awe-inspiring, looking up the Champs Elysées, past the
marché de Noël
(you can go there after for some mulled wine if you like) and through the drippy eco-friendly fairy lights right the way to, oh, what is it again, oh yes, the
Arc de Triomphe
at the top. You haven't been up that yet either, by the way.
So my advice to you is don't miss out on this exciting and unusual attraction, and I'll be expecting a full report in the comments section shortly please, even if it's just to wildly deny my sordid and unfounded accusations of your lack of monument mounting. Go on, convince me it's not true.

And just for your info, it's one of the biggest transportable Ferris wheels in the world, measuring 60 metres high and weighing a ton for each day of the year.
Note: Particularly recommended for families with bored moaning kids, weary couples desperately trying to reignite the flames of their Paris passion, and inspirationless web journalists in search of ideas for blog postings. Would the two former categories kindly refrain from going up this Saturday around 8 pm, as that's when a member of the third category is intending on doing so. Thank you.

The original Grande Roue de Paris, at the 1900 Universal Exposition. You can play 'Spot the Eiffel Tower' if you like.
______________________________________________________________________________________