by Sab Will, wannabe offbeat Paris street guru
Tweet
Forget your most beautiful, forget your most romantic (with one or two notable exceptions), here I offer you an alternative take on the age old problem: how not to end up writing unpalatable, purple prose-tinted, nauseating gush when talking about Paris and its good old Mère Seine.

The approach I've taken for my Top Ten Wayward Paris Bridges may not be new, for all I know, and I've certainly seen another list or two of the Top Ten Paris bridges, but the angle taken, bless them, is invariably eulogistic. Homages to hurl to, if you will.
I wanted to try something different, so I took a bunch of Paris bridges with what I considered notable characteristics and ramped them up to the giddy heights of 'most'.
Whence the list below, where I offer you the most artistic, the most pretentious (go on, guess before looking, I'm sure you'll get it) and yes, I couldn't resist, the most romantic bridges in Paris, to name but a few. So go ahead and get out there; maybe I'll cross you on the Seine one of these days.
Sab's Top Ten Wayward Paris Bridges
No.6:
"Sexiest
" Paris Bridge –
Passerelle Simone de Beauvoir
Curves to die for
Oooh, those sensual curves, that undulating silhouette a worthy complement to the most expressive of
Rodin
or
Maillol's
voluptuous maidenpieces… although we're talking more top model sinuousness than podgy plump here. If you turned this thing on end we'd be reminded of
Amazon Eve
on a diet.
The bridge's elegance is accentuated by the architectural monstrosity of the
Bibliotèque Nationale de France
(BNF) on the 13th arrondissement end, which benefits greatly from its proximity to this infinitely more finely inspired structure.
Man meets metal
We can also escape the windswept planes of the library more easily than before to seek refuge in the interesting and relatively recent
Parc de Bercy
, along with its cutesy little
Bercy Village
at one extremity and the weirdly grass-clad
Palais Omnisports
at the other.
All in all, traversing or simply contemplating the
Passerelle Simone de Beauvoir
(named after the French existentialist philosopher, intellect, author etc.) is a pleasantly uplifting experience. Perhaps all the more so if you consider you are on the newest of all the Seine's 37 bridges, built, none-the-less, by the Eiffel company and opened in 2006, which isn't, however, going to allow it to grab the title of 'Most Eiffelist Paris Bridge' in this very same series of articles. Another
Seine
-spanner merits that weighty accolade far more in my opinion.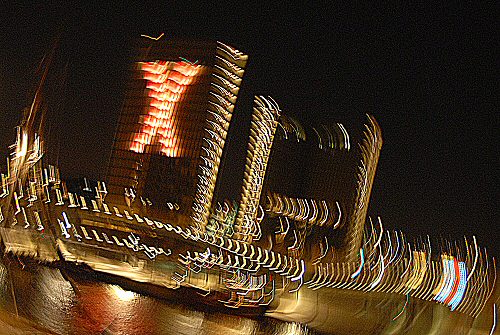 When all else fails, sX sails...
P.S. If you're wondering what the blurry mess above is, well, ah hah, that's not blur, my friends, that's 'art'. It was back in 2008, you see, when the aforementioned BNF was desperately to invent itself some sort of avant-garde ex istence for itself, and the best it could think of doing was lighting up a few of its windows in an 'X' shape. Radical. I'm not sure if it was linked to some sort of erotic exhibition or not, but anyway, there it was. With our sexy Simone walkway in the foreground. I then Sabbified it, for what it's worth, because if there's something less photogenic than the bloody BNF in Paris, even an X-rated version, I haven't yet found it.What would Simone have thought?
~~~~~~~~~~~~~~~~~~~~~~~~~~~~~~~
~~~~~~~~~~~~~~~~~~~~~~~~~~~~~~~~~~~~~~~~~


* Sab Will runs
Photo and Curios Tours in Paris
, and also manages a variety of Paris and photography-themed sites and blogs. He writes an illustrated
Paris Chronicle
every day, runs a
Meetup group
for Paris lovers, interviews Paris personalities and reviews Paris books (on this blog), and even contributes to the
city's street art
(shh), so feel free to browse some of the links below and in the right-hand column to find out more about what he gets up to out there...

______________________________________________________________________________________