Sab's Top Ten Daring Paris Draincovers
No.2: "Draw The Perfect Circle" ~ Introduction
by Sab Will, wannabe offbeat Paris street guru
Tweet
There exists in my city a small group of individuals sharing a singularly original and possibly unhealthy passion: Paris draincovers.
In fact we may not be as few as I'm imagining, and we can even start sub-categorising these low-down individuals into those who decorate the things and those who photograph the results.
Not that a Paris draincover, nor any other functional metal street plate (electricity, gas, phones, cable TV, metro air vents, quarry entrances, prison escape tunnels, ghouls' and goblins' lairs...) needs to have been chromically enhanced in order for them to be interesting. You can often conjure up funny faces and pleasing abstract patterns from the most mundane of materials.
Is my condition serious? C'est grave, docteur? Perhaps, but for those of you who are also enchanted by such frivolity, welcome to my
Top Ten Daring Paris Draincovers
, including some of my favourite smile-inducing street finds from all over the city. Will the Paris streets ever stop serving up surprises from the depths, I wonder? I certainly hope not!
Sab's Top Ten Daring Paris Draincovers
No.2 ~ "Draw The Perfect Circle"
There's quite a few of these cheery additions to your average, nothing special, run-of-the-road manhole cover, but it's always such a pleasure to find another.
This one was along the Canal Saint-Martin, if I remember rightly, and the feet are courtesy of a young guy who was doing a series two-hour street photography workshops with me. Hey man - if you're reading this, I think I still owe you one!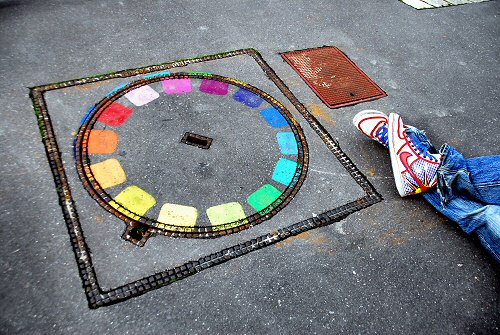 The idea's very simple - a bunch of brightly coloured blobs in circle - but when placed against the usual drab grey of your average Paris street, it really brightens up your day, with no harm done to anyone.
This is quite different to
Top 10 Daring Paris Draincovers No.1
, where the actual form of the drain was not only incorporated into the work, but looked as though it had directly inspired it. Here we have a simple colouring exercise - much less sophisticated than the spooky
Rattle Bones
, but I'd say none the less special in a less showy way.
Maybe you don't agree with me, of course, but it doesn't matter in the slightest. These things, just like the words in my
Top 10 Paris Sidewalk Slogans
and the images in my
Top 10 Paris Pavement Pictures
are there to provoke thought or emotion through a unique piece of Paris street something or other, and only you can decide what that thought or emotion is going to be.
~~~~~~~~~~~~~~~~~~~~~~~~~~~~~~~
Discover all my daring Paris draincovers...
~~~~~~~~~~~~~~~~~~~~~~~~~~~~~~~~~~~~~~~~~
* Sab Will runs
Photo and Curios Tours in Paris
, and also manages a variety of Paris and photography-themed sites and blogs. He writes an illustrated
Paris Chronicle
every day, runs a
Meetup group
for Paris lovers, interviews Paris personalities and reviews Paris books (on this blog), and even contributes to the
city's street art
(shh), so feel free to browse some of the links below and in the right-hand column to find out more about what he gets up to out there...

______________________________________________________________________________________